Did you know you only have 8 seconds before a potential buyer decides if they are interested in your home?
And THAT is why street appeal is so important when selling. If your home looks great from the street, buyers will be dying to see what's inside (rather than driving by and deciding to move straight on to the next property on their list). 

To assess your home's street appeal I'd recommend you walk across the road and take a long, critical look … trying to be as objective as possible. What looks great? What needs fixing or replacing? Does your home need a little more love or 'wow' factor? 

Here are 14 great ways to inspire your buyers and improve the saleability (and value!) of your home.

FIRST IMPRESSIONS COUNT 

Whenever you are prepping an area of your home for sale, rule number one is to always start with decluttering – and the front of your home is no exception. 

1. Lose the eyesores 

Look to remove strongly personal items, scattered clutter and rubbish. The most common things that need to be removed are: garden hoses, door mats, scattered planters in old, plastic pots and kids toys/bikes (including the rusty basketball hoop).
Above image: Lanoma Place by Impress Photography
2. Add a fence 

You can add a strong presence to your home simply by lining the front with a decorative and functional front fence. It can 'create' a front yard (that your buyers didn't see before!), establish a sense of security, and of course add more character and style. 

TIP: Make sure the style you choose matches – and enhances – the character of your home.

A FRONT GARDEN TO BE PROUD OF 

This is one area of the exterior you can't afford to ignore – and you're bound to recoup any time, energy and money you spend on the front garden come sale time. 

3. Spruce up the garden 

It needs to look immaculate. A good place to start is with trimming back any overgrown foliage. It doesn't matter how attractive your home is if no one can see it. Trees, branches, and shrubs can obscure your home's best features and make it seem dark and uninviting. 

It's also important to clear out the weeds, add fresh mulch to garden beds and incorporate some new plantings to add colour and eliminate any 'dead' spots – ensuring the front garden looks balanced and inviting. 

TIP: If this all sounds too hard (or you don't have a green thumb … like me!), there are landscaping professionals who specialise in prepping gardens for sale. They can make specific recommendations for your garden, provide a cost estimate, and then carry out all the work required.

4. Finesse your front lawn 
Nothing says 'a well-loved home' more that a beautifully manicured, lush, green lawn. It is definitely worth investing some time bringing yours back up to scratch before selling. Sometimes I even recommend that my sellers invest in laying new turf (for example, if it's a brand new property, or the existing lawn is beyond repair).

A recent study found that homes with beautiful lawns had up to an $80,000 higher sales price over comparable properties without this feature. So this is one upgrade that is definitely worth investing in! 

Browse thousands of garden photos for more ideas 
 
IMPRESS DRIVE-BY BUYERS 

Many would-be buyers drive past a home before deciding to inspect it – another reason to maximise street appeal. 

5. Light it up 
While your property is on the 
market you should leave the lights on at night (both inside and out) to make your house appear warmer and more inviting for would-be buyers who are driving by.

Of course, you could also consider updating the existing light fixtures (if the current ones are a little dated), or adding extra fixtures for even more light and impact. 
6. Replace the letterbox 
Often a letterbox has suffered from exposure to the weather over the years and can look a little worse for wear. This is an inexpensive upgrade that can be a real style statement and make an immediate impression, even when a potential buyer does a drive-by inspection – what they can see from their car will determine if they decide whether or not to bother looking inside. Choose a letterbox that matches your home, looks sharp and incorporates well into your front garden.

7. New house numbers 
Something as simple as upgrading your house numbers really can make a big impact – adding both style and practicality (helping buyers find your house). Think beyond those peel-and-stick numbers. Why not get creative?

MEET AND GREET 
A welcoming entrance will generate those feelgood vibes you need to get a would-be buyer across the line. A show-stopping entryway will take it one step further – your house will be the standout a buyer remembers.

8. Add a welcoming seating area 
If you have a decent-sized front deck or verandah, you have the perfect opportunity to create another living space that adds value in the eyes of your buyer. Think about adding a couple of chairs, a teak bench, a cafe table or even an ottoman, some luxurious cushions, and a few well-chosen accessories. But make sure you position the furniture so that it doesn't block any doorways or windows.

TIP: If you have the space, always use two occasional chairs (rather than one), for even more perceived value. 

Outdoor furniture to spruce up your entrance 

9. Add a planter (or three!) 
Potted plants are easy to add and instantly offer loads of street appeal. They create a focal point, add softness, and also a hit of instant colour if you choose some flowering perennials.

Make sure that your planters match your architecture and enhance your home's appeal. For a traditional home you might choose a classic urn with soft flowers spilling over the sides or, as seen here, in a more contemporary home a bolder, more structured shape works well.

TIP: I recommend using neutral-coloured planters when styling for sale so they don't attract too much attention and become a focal point (rather than the house).

10. Make a style statement 

Even with a small budget, there are ways to draw attention to your front door and create memorable street appeal. These round, sculptural pots have been positioned in an asymmetrical layout, offering a contrast to the square entry space and leading your attention straight to the front door… and enticing you inside.
Secret Gardens
Here's another fabulous style statement… but on a grander scale. Introducing this bold water feature and well-designed garden lighting makes a dramatic impact. 

ADD FINISHING TOUCHES THAT COUNT 
These exterior touch-ups will dress your house for success the minute it hits the market. 

11. Maximise your inner-city appeal 

Just because you live in the centre of a city, or don't have a traditional front garden, doesn't mean that the same rules don't apply. Carefully chosen paint colours and hardware details can intrigue your buyers and really let them know that something very special awaits inside. 
 
12. Upgrade the front door 

The front door is very important when selling your home as it is usually the first part of the property your buyers see up close and personal… so ensure it is in great condition. Do you need to change the outdated lock and handle? Is the paintwork immaculate (no chips, scratches or dents)? A fresh coat of paint can instantly transform your front door. You can repaint the existing colour, but why not consider making a statement by giving it a blast of colour? 

You might even want to replace the door altogether, as this is quite an inexpensive upgrade that gives you a lot of 'bang for your buck'. 

TIP: If you have an old screen door that is looking a little worse for wear, I recommend removing it completely for the sale, as this will create a sharper first impression.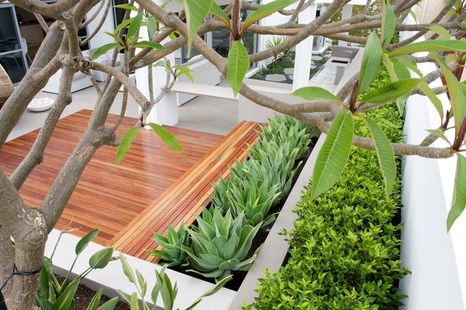 13. Refinish the decking 

Research shows that 83 per cent of buyers will pay a premium for a property that is ready to move into and doesn't need any work. So as a seller you should aim to make your home look as new as possible. Timber decking is a great garden surface but does show the effects of weathering and wear from traffic quite quickly. However, you can easily bring it back to life by refinishing the timber to bring it back to life and impress your buyers. 

Browse popular deck designs 

14. Don't forget the garage door
Garage doors don't have to be drab, boring or tired. Because they have such a commanding presence on many facades, repainting or upgrading your garage door can really add street appeal (and thousands to your sale price).
 Guest contributor: Deb Lindner; this story first appeared on 
Read more:
3 tips for selling your home this summer
Thinking of selling
Let us show you how to sell for the Best Possible Price in the shortest possible time
DISCLAIMER
The following advice is of a general nature only and intended as a broad guide. The advice should not be regarded as legal, financial or real estate advice. You should make your own inquiries and obtain independent professional advice tailored to your specific circumstances before making any legal, financial or real estate decisions.